Brewscape Brewery Tour $45pp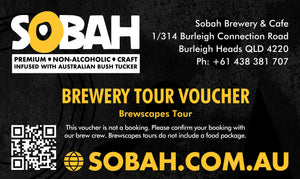 Book online now!
The Essential Brewscape Tour
Dive into the heart and soul of Sobah with our Essential Brewscape Tour. Let our brew crew be your guides on this adventure through our brewery and the captivating world of non-alcoholic craft beer. Discover the intricate artistry that brings Sobah's range of bush tucker brews to life and uncover the stories that make Sobah truly unique. It's more than just a tour – it's a chance to immerse yourself in the essence of Sobah.
Please contact Nat at events@sobah.com.au with your order confirmation to secure your brewery tour booking. 
The essential brewscapes tour does not include a food package. Feel free to dine at our native food cafe either side of your tour. For groups of 4 people or more, we recommend purchasing a tour with a set menu. 
Shopping for someone else but not sure what to give them? Give them the gift of a brewery tour!