SOBAH Special Release Wattleseed Gold GF Ale IS BACK SUMMER 23/24!!!!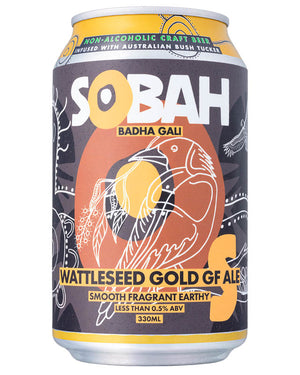 Smooth. Fragrant. Earthy.
This summer Sobah is offering a GLUTEN-FREE version of our popular Wattleseed Gold. This brew takes on a classic Australian style beer paired with roasted wattleseed which has a savoury nutty, roasted coffee aroma, with touches of sweet spice, raisins and chocolate.

There are many varieties of Australian wattle, a dietary staple for Aboriginal Peoples for over 40,000 years providing a valuable source of protein and carbohydrate in times of drought, as well as rich source of bush medicine. Occupying vast areas of the continent, the wattle is known by many traditional names: 'mulga', 'brigalow', 'gidgee', as well as 'muyan' by the Wurundjeri Peoples of VIC and 'barranbaa' or 'burri' by the Gamilaraay Peoples of NSW.
Learn more about the magpie artwork here. 

Less than 0.5% ABV